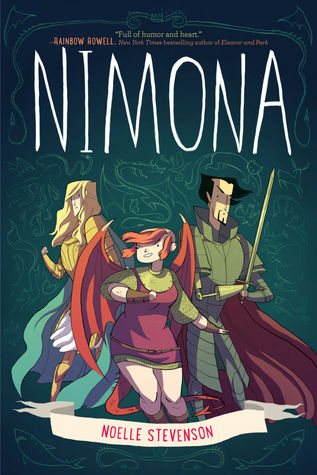 Publication Date:
May 12, 2015
Publisher:
HarperTeen
Genre:
Graphic Novel, Young Adult, Fantasy
Format:
Hardcover (from Library)
Page Count:
266
The graphic novel debut from rising star Noelle Stevenson, based on her beloved and critically acclaimed web comic, which Slate awarded its Cartoonist Studio Prize, calling it "a deadpan epic."

Nemeses! Dragons! Science! Symbolism! All these and more await in this brilliantly subversive, sharply irreverent epic from Noelle Stevenson. Featuring an exclusive epilogue not seen in the web comic, along with bonus conceptual sketches and revised pages throughout, this gorgeous full-color graphic novel is perfect for the legions of fans of the web comic and is sure to win Noelle many new ones.

Nimona is an impulsive young shapeshifter with a knack for villainy. Lord Ballister Blackheart is a villain with a vendetta. As sidekick and supervillain, Nimona and Lord Blackheart are about to wreak some serious havoc. Their mission: prove to the kingdom that Sir Ambrosius Goldenloin and his buddies at the Institution of Law Enforcement and Heroics aren't the heroes everyone thinks they are.

But as small acts of mischief escalate into a vicious battle, Lord Blackheart realizes that Nimona's powers are as murky and mysterious as her past. And her unpredictable wild side might be more dangerous than he is willing to admit.
Now this is the graphic novel I have been waiting for! If you have read any of my previous graphic novel reviews on this blog, you might know that I usually don't enjoy them as much as I would like or as much as a normal novel, and I have been on the hunt for a graphic novel that just surprises me. One that would fill up my fanatic fiction reader glass and Nimona was finally
the one
. It did not only fill my fanatic fiction reader glass to the brim, but that stuff overflowed onto the table! I honestly didn't know I could enjoy graphic novels like this, but Nimona has shown me I can and I will not be giving up on graphic novels anytime soon.
I will start off by talking about the
beautiful artwork
in this graphic novel. I don't know what it is about Noelle's art style, but I loved it. Just the distinct way she shapes each character and the vivid colors she uses already had me sold from the first page that I would love this novel. There are some graphic novels that I have read where I thought the artwork was nice, but I really enjoy the bold colorful styles that are perfectly displayed in Nimona. I also found that the artwork clearly helped present the story and complimented the text or dialogue that went along with it. This allows the readers to grasp a good understanding of the plot, and I felt like Noelle Stevenson found the perfect balance between telling the story with pictures as well as text.
With such a nice use of artwork, sometimes I fear that the overall plot and characters will lack in quality, but this graphic novel honestly accomplishes it all tactfully. The story was just as enthralling as the artwork and it is obvious a lot of work was put into the book's plot. This book is named after the main character Nimona who is a shape shifter and joins forces with the "villain" of the story who she grows to really like and help out. I enjoyed how each character was very dynamic and had a clear personality. They also each had their difficult pasts or background story, so you could see how they developed into who they currently are. Each of the main characters felt authentic mostly because you could see that they are not just black or white, good or evil, but have their own good qualities, bad qualities, and weaknesses.
There was never a dull moment in this novel and there were no scenes that felt unnecessary. There is quite a bit of action, especially towards the end of the graphic novel. These action-packed scenes were very exciting and in those moments I felt hooked wanting to know what will happen next. If any of you follow my other posts, you probably already know that I am someone who just
loves
a good ending and this ending was literally
perfection
. It was like the perfect mixture of a bit of melancholy with satisfying closure at the same time. You honestly must read this graphic novel to find out more, and I am sure you will fly through it like I did. I really don't have anything negative to say about this book, and the only thing I wish there could have been more of is the world building, but even that was done well enough to where it did not hinder the story.
My Rating: