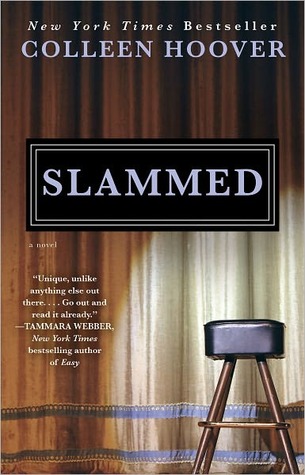 Series:
Slammed #1
Publication Date:
September 18, 2012
Publisher:
Atria Books
Genre:
New Adult, Contemporary Romance
Format:
Paperback
Page Count:
321
Layken's father died suddenly, leaving her to gather every ounce of strength to be a pillar for her family, in order to prevent their world from falling apart. Now her life is taking another unexpected turn...

Layken's mother gets a job which leads to an unwanted move across the country. However, a new home means new neighbours... and Layken's new neighbour is the very attractive Will Cooper.

Will has an intriguing passion for slam poetry, and a matching passion for life. The two feel an irresistible attraction but are rocked to the core when a shocking revelation brings their romance to a screeching halt. Layken and Will must find a way to fight the forces that threaten to tear them apart...or learn to live without each other.
I started buying Colleen Hoover's books with the mindset that I was going to love them just by how many other people love her books and my own love for the contemporary romance genre. I haven't read any New Adult books before, but I had heard this book was a great transition into the new adult genre which I really want to read more of. I thought I was ready and set to easily enjoy this book as a quick and fun read, and gosh was I wrong! I didn't just enjoy this book,
I freaking loved it
! This was not just any contemporary romance novel but has a story that is so meaningful. This book taught me so many life lessons that just left me in awe. To me, it was so good that I honestly have such a hard time understanding the few very low ratings I have seen it given on Goodreads. What even???
In this novel, we have the two love interests Layken and Will and a few important side characters including the little brothers of Layken and Will, Layken's mom, and Layken's friends. At the beginning of the novel Layken had just experienced the death of her father and her family has had to move away from their home in Texas to Michigan. Therefore, she is not in the best place from the beginning of the novel. On her first day in the new house, she meets Will which as you might of guessed blossoms a complicated relationship. I loved the romance because it was just too cute and at some points aggravating (but in a good way)! I know some New Adult books have the tendency to be seen as a bit...raunchy, but honestly, this novel is tamer than some of the Young Adult books I have read.
I believe going into this book mostly blind also allowed me to really enjoy the plot. There are so many twists I did not even slightly see coming and they just came and slapped me in the face. The love interest Will is a very intelligent young man who loves poetry, specifically slammed poetry, so there is a lot of poetry in this novel that just made my heart melt. Colleen Hoover needs to just go ahead and write a whole novel in verse if she has not already. I felt like everything was so well paced. I always felt engaged and ready to see what would happen next. I laughed, cried, sobbed, got angry, was surprised, and so many other emotions! Even her side characters were just as amazing and there is one character in particular named Eddie, whose story brought me to tears.
I think my favorite part about this book is how meaningful it felt. The characters are so authentic in that they are flawed and have been dealt their own set of life struggles. Every single character in this novel was built so well and I felt like I truly knew them by the end of this book. There are so many things that happen to the main characters Will and Layken in this novel that really throw their lives in every direction. I felt their pain because most of their problems were things that are very unfortunate, but can happen to anyone. This novel deeply explores the struggles life throws at us and how we choose to handle them. We can let them knock us off our feet or we can keep fighting and moving forward. This might sound crazy, but after reading this novel I feel enlightened and inspired all at the same time. I don't even believe this explanation is giving this book the justice it needs, but PLEASE JUST READ IT! It will hit you straight in the heart. The epilogue is what did it for me. I am not even sure why but I literally sobbed my way through it, and for a good 5 minutes after. It wasn't even only tears of sadness, but also tears of joy, understanding, and appreciation. (I know, I know. I am a very emotional reader OK! Colleen Hoover will just do that to you.)
I am honestly just speechless with the fact that this is her first novel and not only is it this good, but it is supposed to get even better as I read her newer novels. I honestly don't know if my heart will be able to handle it all.
My Rating:
If you have Colleen Hoover recommendations please tell me them all! I tried so hard not to include spoilers in this review, but let me know if I should make an audio book talk post just discussing this book because I really could go on all day about it.
Also, please let me know if you have read Point of Retreat and if you think I should read it because I honestly feel satisfied with the ending as it is. As much as I want to linger in the Slammed world with these great characters, I am nervous to dive deeper into later on in the main characters' lives.